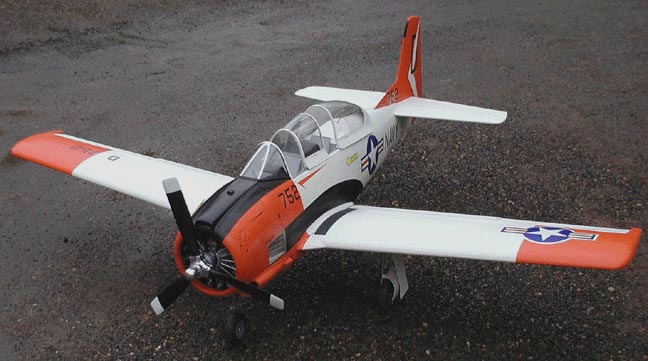 North American T-28B "Trojan"

1:6 scale USAF and USN TRAINER and COIN FIGHTER 1949 - 1973

80.7" Span, 1074 sq. in. for 1.4-2.0 two or four stroke, 20-23 lbs.

Click on underlined items for more information

Plans CAD drawn,

(85 sq. ft., rolled in a tube)

$70

(frt prepaid)

The plans show all servo locations and mounts, and such things as sliding canopy details and numerous construction notes.

The airplane was designed with tab & slot assembly, for easy, accurate construction.

Printed Building Instructions 55 pages and a Bill of Materials $23 (frt $4 in envelope)

Step by step instructions to build this airplane, plus general building tips, methods and materials.

Documentation sources are called out in the building instructions.

Canopy (3 pieces) and almost 2 feet long, plus a couple of landing light lenses $65 (frt $13)

Cowling Fiberglass and Epoxy 9 pieces, with separate scoops $85 (frt $13)

Wing Tips Fiberglass and Epoxy 2 pieces $20 (frt $5)

COMPLETE PLANS, DECALS AND MOLDED PARTS SET $260 (frt prepaid)

Decals Lettering for #752 as pictured above. 4 sheets $34 (frt $4)

(e-mail with photos for a quote on special markings).

CD Rom Building Instructions and Construction Pictures ($15 if purchased with Parts Set) $26 (frt $4)

Instructions, Bill of Materials, and more than 220 construction photos

Instrument Panel Kit 2 Panels of dial instruments (but no projecting knobs or switches) $50 (frt $4)

Panels must be assembled from 4 pieces and painted for each panel - easy assembly

Templates of parts to be cut out (35 sq. ft.) nested on "wood" sheets $ 20 (frt prepaid with plans, $8 folded)

Note: This aircraft was designed for laser cut parts, with tab & slot assembly: the parts are more complex than most .

Laser Cut Wood Parts, All the cut wood parts in the airplane, except the skins. $335 (frt $16)

Landing Gear A retractable gear and air system made especially for this airplane. $595 (frt $13)

An adjustable speed retract valve must be purchased separately.

Paint "Warbird Colors" water clean-up, fuel proof paint in scale colors, primer and clearcoat. $142 (frt $19)

Click on "Paint" above for paint included in set.

Paint Mask Templates Ask for them. We can send insignia and lettering templates to you in print form or to your template cutter in a cutting file.

E-MAIL US FOR QUESTIONS OR ORDERING INFO

Click below to visit the best R/C scale site on the web, and see this airplane under construction!