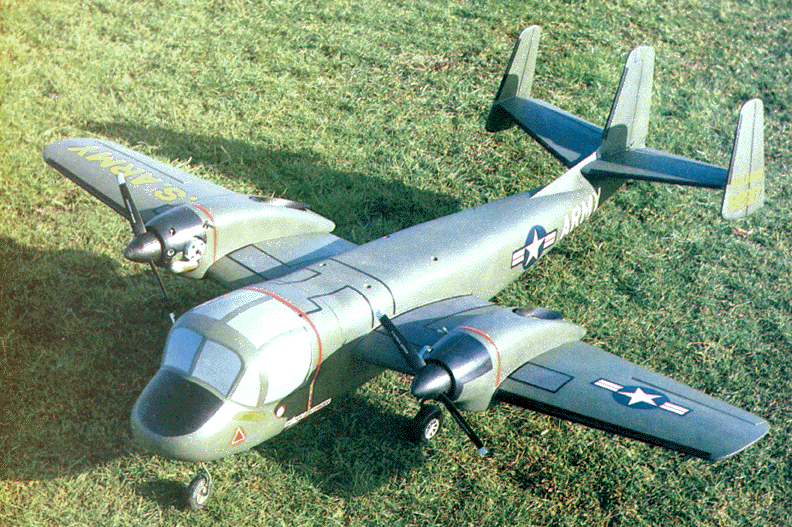 Grumman OV-1B "Mohawk"
Twin Turbo-Prop U.S. Army Observation Aircraft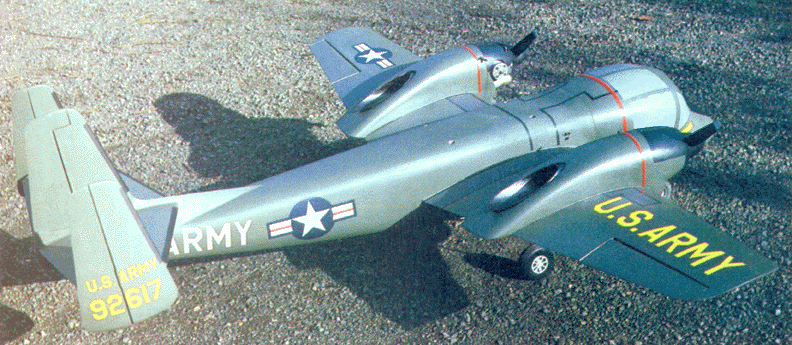 Very easy to build, good

beginning twin

Simplified Structure

all foam and fiberglass for fast and easy building.

Plans include all templates for foam cutting.

Very sturdy and easily repairable, and will survive most crashes with minimal repairs. You'll love foam airplanes after you've flown this one. Anyone new to twin-engine aircraft flying should start with this airplane. I did, and it saved me a lot of grief.
Scale Outlines

Very Aerobatic This airplane flies really well!

Very Slow Landing, and even better with flaps.

Strong Landing Gear Lots of room for retracts, too.

Easy to Detail into a realistic scale model.

Comes apart behind the wing You can sit it on the wheels for transport.

Foam Cutting Templates All templates are shown on the plans.

Insignias and Markings shown on plans, so you can make your own markings from trim sheets.

These are the same as the picture on the cover of the Squadron-Signal "OV-1 Mohawk In Action" book.

Click on the

UNDERLINED item below for sample of plans.

Plans 1:9 scale ( 28 sq. ft.) 56" span, 6-1/4 lbs., 559 sq. in., for two .15 -.20ís, $35 (frt prepaid)

Plans 1:7.5 scale (37 sq. ft.) 65" span, 10-1/2 lbs., 753 sq. in., for two .25 -.40ís, $45 (frt prepaid)

Plans 1:6.5 scale (45 sq. ft.)

77" span

,

1

6 lbs., 1057 sq. in., for two .40 -.60ís, $55 (frt prepaid)

All servos, control runs and control linkages shown on the plans.

Building Instructions Very complete,

instructions for hot wire foam cutting for this aircraft $9 (frt $3)

These instructions include a materials list.

Templates for Hot Wire Cutting Laser cut ply foam cutting templates. These may either be purchases or rented.

You pay full price for the templates to be shipped to you. You get a refund beyond the rental price when you return them in

good condition.

Templates 1:9 scale $70 (frt prepaid) $40 refund (you pay the freight) for a $20 rental

Templates 1:7.5 scale $85 (frt prepaid) $50 refund (you pay the freight) for a $25 rental

Templates 1:6.5 scale $95 (frt prepaid) $55 refund (you pay the freight) for a $30 rental

E-MAIL US FOR QUESTIONS OR ORDERING INFO

Click below to visit the best R/C scale site on the web!