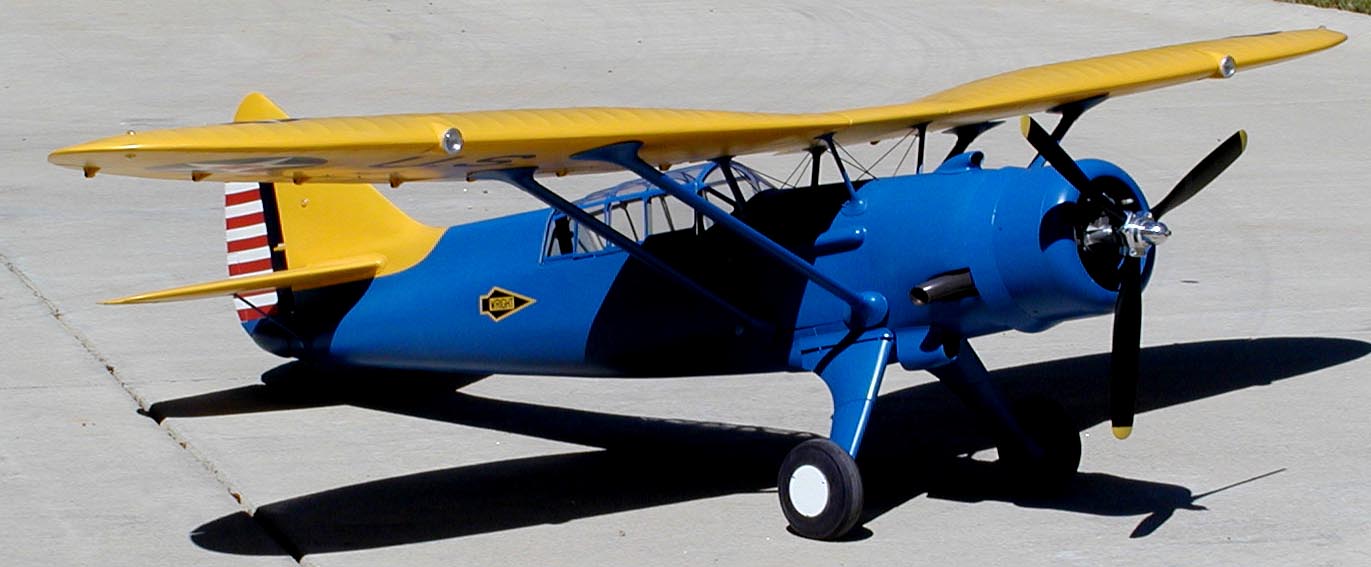 Douglas O-46
1:5 scale @ 110" (2.79 m) wingspan, (1912 sq. in.) for 1.4 2- stroke, larger 4-stroke, or 40 cc. gas, 25 lbs (11.4 kg).
United States 1936 OBSERVATION AIRPLANE
Balsa & plywood basic construction, fabric covered wings
This airplane is
large, light, slow, aerobatic, easy to build and very easy to fly
(click on the underlined words for pictures)
Plans 10 sheets (132 sq.ft. - 12.5 sq. m.) (that's 44 feet long by 3 feet high) CAD drawn, rolled in a tube including a
Balance Diagram
and a Lighting Wiring Diagram $70 (frt. prepaid)
Printed Building Instructions 44 step-by-step pages plus a Bill of Materials $23 (frt $5 in envelope)
Things you need to know to build this airplane, plus general building tips, methods and materials.
The instructions include documentation, paint, and color and markings information.
Canopies Vacuum Formed Clear PETG plastic in 5 sections $69 (frt $11)
Sliding canopies plus the landing and navigation light covers.
Cowling Fiberglass and Epoxy one piece molded $55 (frt $11)
Carburetor Air Intake Fiberglass and Epoxy to mount on nose $10 (frt $4)
Oil Cooler Fairing Fiberglass and Epoxy under nose $15 (frt $11)
Tail Cone Fairing Fiberglass and Epoxy under rudder $20 (frt $4)
Wiring Cover Fiberglass and Epoxy long cover on fuselage side $15 (frt $11)
Landing lights Fiberglass and Epoxy 2 lights to fit on wing leading edge $15 (frt $4)
Landing Gear Fairings Fiberglass and Epoxy $95 (frt $10)
Strut Fairings Fiberglass and Epoxy strut cuffs, set of 18 $130 (frt $10)
Foot steps Molded Urethane set of 4 $10 (frt $3)
Fuselage Decal - "Wright" Field Dry Transfers both sides, plus instructions $16 (frt $3)
Laser Cut Wood Parts, the cut out wood parts in the airplane; no skins or sticks $475 (frt $14)
PLANS, LASER CUT WOOD AND MOLDED PARTS SET, AS ABOVE, PLUS BUILDING CD $1015 (set frt prepaid)
THE FOLLOWING ITEMS NOT INCLUDED IN THE ' SET' ABOVE
Landing Gear A complete set (everything you need) of scale, shock absorbing gear made especially for this airplane. $295 (frt $10 or prepaid with Parts Set)
Paint A water clean-up, almost odorless, fuel proof paint in scale colors, from "Warbird Colors"
Paint Masks Self-stick vinyl paint masks are available for lettering and insignias @ www.getstencils.com. Ask for the "Vanguard Douglas O-46" set.
or, we can send a computer CAD file to another stencil cutter.
Insignia and Lettering Templates printed on paper, to do your own masking. $9 (frt $3)
Not Sure? Try this!
Computer CD Rom Building Instructions and Construction Pictures $20 (frt $3)
Complete Instructions, a Bill of Materials, over 300 construction photos, real aircraft detail photos and finished aircraft photos on a CD ROM
to look at in your computer and print as you wish. (Add only $10 for CD ROM with printed plans, FREE with complete set, above)
E-MAIL US FOR QUESTIONS OR ORDERING INFO
Click below to visit the best R/C scale site on the web, and see this airplane under construction!